Biography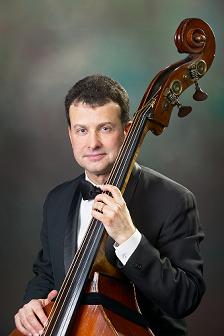 Photo by David Eric Studio, 2004
Dennis Masuzzo was born in Norfolk, Virginia, in 1953. Primarily self-taught, he began his musical studies on guitar at age ten, and double bass at age 15. Mr. Masuzzo earned his B.M. and M.M. from The Juilliard School, as a double bass student of David Walter.

He has performed in ensembles and orchestras directed by Leonard Bernstein, Pierre Boulez, Mstislav Rostropovich, Aaron Copland, James Conlon and Jens Nygaard. He is a former member of Musical Elements, the New York Quintet, and the New York Art Ensemble, and has performed in Broadway orchestras for Bernstein's

Candide

and Gilbert and Sullivan's

Pirates of Penzance

. His performances have been recorded by Columbia, RCA, Elektra-Asylum, Sony Digital, Musical Heritage, MMG, Grenadilla, CRI, Opus One, and for Universal Pictures.

In a 1991 review in

The Strad

, Marcia Young writes, "Eugene Kurtz's 1974 work,

The Last Contrabass in Las Vegas

, shared a programme with three world premieres in the New York Art Ensemble's February 25 recital at Merkin Hall. Essentially a comic duet for contrabass and actress, Kurtz's work put bassist Dennis Masuzzo and his instrument through their paces thoroughly, using surely every method and device ever conceived for getting sound out of a contrabass. The work's programme - the gushings of a female fan of the instrument who literally goes mad over it - is a clever idea and the occasion of lots of musical jokes. Masuzzo performed masterfully and from memory." While a double bass student at Juilliard, Mr. Masuzzo was the guitarist with the Juilliard Contemporary Ensemble. He has also studied with Joe Morello, legendary jazz drummer.

Mr. Masuzzo freelances in the New York metropolitan area and has been bassist for the Paper Mill Playhouse in Millburn, New Jersey, since 1991. He plays a guitar-shaped double bass made in 1833 by Vincenzo Lucarini and uses a Henk te Hietbrink German bow.

Mr. Masuzzo lives with his wife, Leslie, and son, Benjamin in Upper Montclair, New Jersey, where he teaches privately.